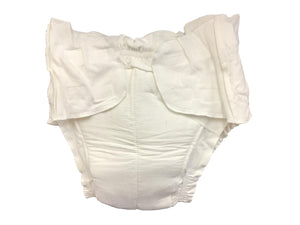 QUALITY CARE YOUTH INCONTINENT BRIEF | DIAPER
Quality Care Incontinent Youth Brief was developed to be a slim-fitting, highly absorbent and multi-adjustable reusable adult cloth diaper. This is the perfect cloth diaper choice for both youth and adults who are experiencing total incontinence.
The inner absorbent pad, form-fitted and sewn between two layers of cotton flannelette, provides a discreet, slim profile. A unique Velcro closure system allows for fit adjustments of both leg and waist for a comfortable, true body fit.